Roularta Media Group acquiring Flow Magazine from DPG Media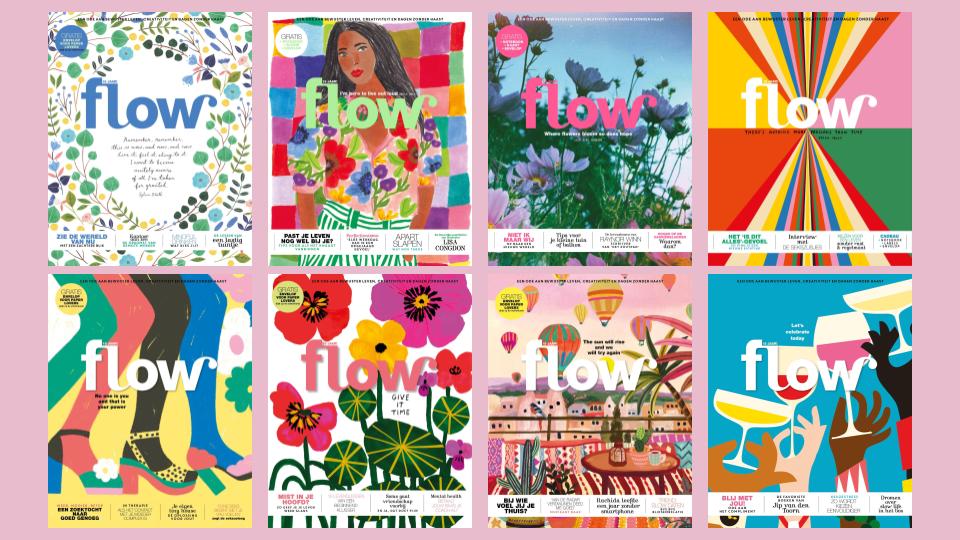 Roularta Media Group is taking over Flow Magazine from DPG Media through its Dutch subsidiary, Roularta Media Nederland. The acquisition is in line with Roularta Media Group's ambition to continue building up its position on the Dutch magazine market and further strengthening its mindfulness range.
Since acquiring WPG Media in September, and with it the mindfulness titles Happinez, Yoga by Happinez and Psychologie Magazine, Roularta Media Group is now also adding Flow Magazine to its portfolio. This 'slow reading' magazine, which focuses on mental health and creativity, is being acquired from DPG Media by the subsidiary Roularta Media Nederland.
Xavier Bouckaert, CEO of Roularta Media Group:
"Following our recent acquisition of Happinez, Yoga by Happinez and Psychologie Magazine, the acquisition of Flow Magazine is the ideal addition to our unique cluster of the strongest and most relevant media brands in the mindfulness segment in the Benelux. These four media brands already have well-developed multimedia (with digital channels, online stores, events and many other line extensions), and have been successfully launched abroad by means of licencing agreements."
Roularta Media Nederland is the second-largest magazine publisher in the Netherlands, whose 240+ professionals run 30 magazine brands with a collective revenue of 70 million euros. The media company belongs to Roularta Media Group, which sees strengthening its position on the Dutch magazine market as an important strategic priority.
Erwin van Luit, CEO of Roularta Media Nederland:
"I'm delighted to be able to add Flow Magazine to our portfolio. In combination with the recently acquired titles Happinez, Psychologie Magazine and Yoga by Happinez, Flow Magazine will give us a strong 'mind & body' family. That's why I'm convinced that joining forces is the key to the further development and growth of these wonderful brands and Roularta Media Nederland itself."
For DPG Media, the sale of Flow Magazine is part of its strategy to concentrate on the areas of women, children, living and entertainment, with digital acceleration and maximum impact on society as its goals.
Joyce Nieuwenhuijs, director of magazines at DPG Media:
"I was there when Flow Magazine first saw the light of day 15 years ago, and I'm more than proud that our bold entrepreneurship has enabled Flow Magazine to grow into the brand it is today, both in the Netherlands and internationally. I am convinced that Flow Magazine will continue to develop in its new family. It will now be able to join forces with other brands, in a similar strategy to what we're doing at DPG Media, for example with the women's and kids' brands."
Over the past 15 years, Flow Magazine has grown into one of the most popular mental health titles.
Irene Smit, creative director & co-founder of Flow Magazine:
"For 15 years, Flow Magazine has been a brand that inspires people all over the world with life lessons on how to live life differently. More slowly, more simply, with attention to what really matters. It's honest, grounded, authentic, personal, practical and realistic. I can look back on a lovely period in which we've been able to seize great opportunities for Flow Magazine and achieve all that we have today. I'm looking forward to continuing to develop this magnificent brand with our colleagues at Roularta."
The transaction is still conditional upon a positive reaction from the works council of Roularta Media Nederland and DPG Media.
About Flow Magazine:
Flow Magazine was founded in Haarlem in 2008 and has grown over the past 15 years into an internationally successful platform. The magazine appears 14 times a year in the Netherlands, with 10 regular editions and 4 specials. Flow Magazine has built up a community of 676,000 followers on social media and is also published in France, Germany and America.
About Roularta Media Group:
Roularta Media Group (RMG) is a Belgian publicly-listed multimedia group and a leader in magazine brands (general and business news, women's and lifestyle brands) in Dutch and French, local media in Flanders (primarily Sunday newspapers, location-based advertising online and on TV screens in local businesses, networking events, etc.), provincial newspapers (Krant van West-Vlaanderen), and financial and business newspapers (De Tijd and L'Echo, in which RMG holds a 50% stake).
In the Netherlands, RMG has the second-largest portfolio of magazine brands (opinion, investing, 50+, sports, lifestyle, and special interest).
In Germany, RMG is a market leader in media for the fifty-plus audience.
With Roularta Printing Services, RMG operates the largest offset printing factory in Belgium, producing high-quality newspapers, magazines, and catalogs for the Belgian and international markets.
In total, Roularta Media Group employs approximately 1,300 full-time employees, with consolidated revenues of €343 million.