New corporate look
A brand-new logo and a contemporary corporate look: this is how Roularta Media Group will be emphasising its sustainable, future-oriented vision from now on. After all, Roularta wants to stay the most relevant media partner today and also in the long term. Recent developments within the multimedia group have already laid solid foundations.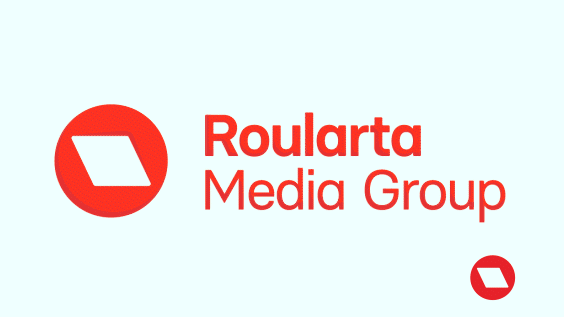 The new corporate look will soon be displayed on all the group's websites, apps, social media channels, newspapers, magazines, buildings, e-mails and in all communications. The red circle in the logo is a reference to the attentive eye of the reader. It also refers to the RMG team, which keeps an eagle eye on a constantly evolving world. Another striking element is the white diamond. It represents the screen of a computer, smartphone, laptop, tablet or other mobile device as well as a sheet of paper: two worlds connected by content from strong brands. Roularta connects with its readers no matter what platform or medium they are using, at any time of the day, whatever their need. Whether they are looking for reliable information or inspiring lifestyle content. RMG provides dynamic continuity in a changing world, both for readers and advertisers. That is what the new logo aims to convey.
Daily innovation
"Our logo gives you a glimpse of Roularta as it is today and will be in the future," says CEO Xavier Bouckaert about the launch of the new look. "Roularta Media Group never stands still. Continuing to innovate every day is our way of guaranteeing the very best quality for our readers and advertisers."

More digital revenue
Roularta Media Group's evolution is strong and driven. That much is clear from its financial results in recent years. At present, around two thirds of its revenue comes from the readership market (subscriptions, individual sales, line extensions), and printing jobs for third parties. Advertising accounts for 1/3 of its revenue. It is striking that a third of its advertising revenue comes from the digital channels. Readers are also increasingly opting for a combination of print and digital media.

Gender balance achieved
Roularta Media Group aims for a healthy gender balance, both in the editorial teams and among its reader groups. Thanks to the acquisition of the magazines Libelle/Femmes, Flair and Feeling/GAEL, Roularta has succeeded in that mission.
More vertical integration and completely debt-free
Roularta Media Group has also sold its 50 percent stake in Medialaan and acquired Groupe Bayard's 50 percent stake in Plus Magazine (Belgium, the Netherlands and Germany). One joint venture is still in place: Groupe Rossel and Roularta Media Group are the faces behind De Tijd/L'Echo and the professional websites for the real estate and automotive sectors (immovlan.be, autovlan.be and gocar.be). This strategy has enabled Roularta Media Group to present a strong balance sheet. The multimedia group is 100 percent debt-free and has more than 100 million euros in cash reserves and its own shares.

About Roularta Media Group:
RMG is a Belgian-based, listed multimedia group. It is the market leader in magazine brands (general, business news, sports news, women and lifestyle) and professional brands in Dutch and French, in local media in Flanders (regional newspapers, Sunday newspapers, lifestyle magazines, geolocalised online advertising, point-of-sale TV advertising and networking events), in provincial newspapers (Krant van West-Vlaanderen) and in financial and business newspapers (De Tijd, L'Echo). Roularta is a data specialist, with Trends Business Information, and it runs the Belgian business TV channel KanaalZ/CanalZ. In Belgium, the Netherlands and Germany, RMG is the market leader in media for the over-50s with Plus Magazine. Roularta Printing Services provides RMG with the largest offset printing company in Belgium. This is where quality newspapers, magazines and catalogues for the Belgian and foreign markets are printed.